Career
---
Click here for our vacancies
Auszubildender Fachinformatiker für Anwendungsentwicklung (m/w/d)
Mitarbeiter Technischer Support (m/w/d)
Spontanbewerbung
Sikom
Get things moving with Sikom
Become part of a dynamic, innovative company. Help shape the future.
Get to know our team
WHO works at Sikom and WHAT is it like to work here? Colleagues give some insights.
Why Sikom?
We know that if you feel comfortable, you can give your best. That's why we offer benefits for wallet, heart and soul.
Further training – professional and personal development is supported by individual training offers
Flexible working in the office or mobile, for a good work-life balance
Sustainability and environmental awareness Find out more
Employee events
Fair pay
Company pension scheme & 13 monthly salaries
Childcare allowance
Company car or BahnCard (depending on function and travel)
Free drinks – water and coffee are available free of charge at our locations
This is important to us
Our team-developed communication principles describe the way we want to work together at Sikom. Four themes are central to this:
Tasks
For tasks, we set priorities and time frames and communicate those clearly.
Once finished, we report tasks as completed.
Interpersonal contact
We think about the appopriate communication channel in advance. Not every colleague can always be reached by phone or chat, or is constantly reading their emails. The choice of the communication channel is adapted to the reason for communication.
Appreciation
Consideration and helpfulness are a matter of course for us in our daily dealings with each other. This also means that support is offered beyond one's own area of responsibility. We have an open ear for questions and issues. Everyone is allowed to ask questions and should be listened to.
We believe in mutual respect. Every employee, every job and every customer is valuable.
That is why we treat each other with respect.
Good News
We praise.
We mention overall and individual successes.
School and university students
To be in touch as early as possible – "win-win" for both sides: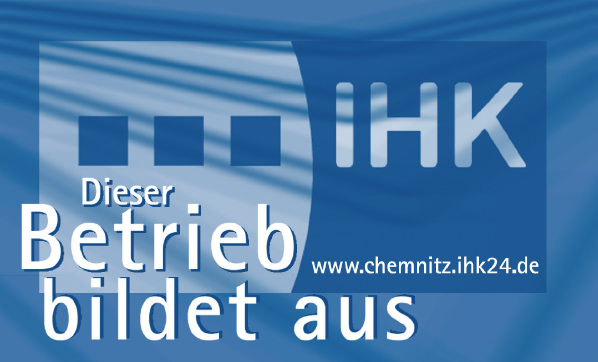 We are an IHK training company.
Since 2019, we have been training IT specialists at our development site in Zwickau.
In the three-year apprenticeship there are different specialisations:
IT specialists for system integration
set up and manage networks, servers, databases and operating systems.
IT specialists for application development
develop programmes, optimise and test them.
At the vocational school (BSZ e.o. Plauen) you will deepen your knowledge in the subjects of information technology systems, software application and development as well as economics and business studies.
BA-Sachsen:
We are a partner of BA Sachsen.
The dual system with alternating theoretical and pracical phases combines a course of study with practical training in a company.
During their studies, students learn the theoretical and practical basics of computer science.
They deal with software development, databases and computer networks.
Further information is available here.
Newcomers and experienced professionals
Whether you have just completed your training or studies or already have several years of professional experience, we are sure to will find a position at Sikom that suits you.
You can join us in the following areas:
Software development
Customer service
Project and product management
Sales / Inside Sales
Organisation (Administration)
Application
Through your application, we want to know why you are applying to Sikom and for the job in question.
In addition to your cover letter, your CV should give a good overview of your skills and knowledge.
Please also state through which job advertisement or job board you found us, as well as a possible starting date and your salary expectations.
Confirmation of receipt
As soon as we have received your application documents, we will send you a confirmation of receipt by email.
The next step is to check your documents. This usually takes two to three weeks.
Get to know each other
In a personal meeting we would like to learn more about you and you'll also have the opportunity to ask your questions.
If a face-to-face meeting is not possible, you can of course meet us digitally via MS Teams. In this case, you will receive dial-in data via email. You can then dial in via PC or mobile device.
Trial week
You don't have to buy a pig in a poke, but can optionally drop by for a few days without obligation and get your own impression.
Contract offer
Once we have convinced each other in the interview, you will receive a confirmation of confirmation by telephone or email.
Onboarding
Onboarding at Sikom is planned and implemented individually for each position.
Through a welcome event, you will receive all relevant information about Sikom as an employer.